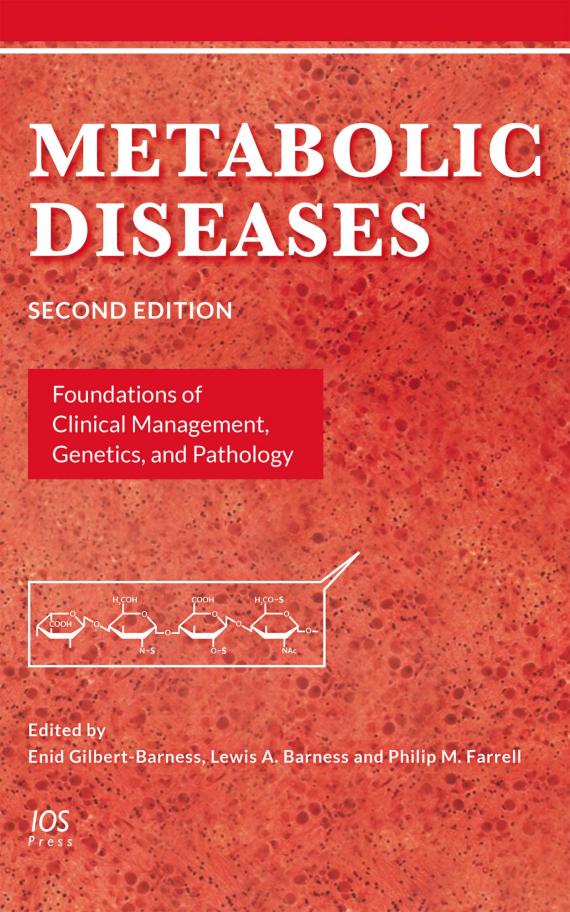 Metabolic Diseases
Foundations of Clinical Management, Genetics, and Pathology
Editors: Gilbert-Barness, E., Barness, L.A., Farrell, P.M.
January 2017, 960 pp., hardcover
ISBN print    978-1-61499-717-7
ISBN online 978-1-61499-718-4
€220 / US$250 / £187
The 2nd Edition of Metabolic Diseases provides readers with a completely updated description of the Foundations of Clinical Management, Genetics, and Pathology. A distinguished group of 31 expert authors has contributed 25 chapters as a tribute to Enid Gilbert-Barness and the late Lewis Barness--- both pioneers in this topic. Enid's unique perspectives on the pathology of genetic disorders and Lew's unsurpassed knowledge of metabolism integrated with nutrition have inspired the contributors to write interdisciplinary descriptions of generally rare, and always challenging, hereditary metabolic disorders. Discussions of these interesting genetic disorders are organized in the perspective of molecular abnormalities leading to morphologic disturbances with distinct pathology and clinical manifestations.
The book emphasizes recent advances such as development of improved diagnostic methods and discovery of new, more effective therapies for many of the diseases. It includes optimal strategies for diagnosis and information on access to specialized laboratories for specific testing. The target audience is a wide variety of clinicians, including pediatricians, neonatologists, obstetricians, maternal-fetal specialists, internists, pathologists, geneticists, and laboratorians engaged in prenatal and/or neonatal screening. In addition, all scientists and health science professionals interested in metabolic diseases will find the comprehensive, integrated chapters informative on the latest discoveries. It is our hope that the 2nd Edition will open new avenues and vistas for our readers and that they will share with us the interest, excitement and passion of the research into all these challenging disorders.
Published by IOS Press
Ehlers-Danlos Syndrome: A Multidisciplinary Approach
Editors: Jacobs, J.W.G., Cornelissens, L.J.M., Veenhuizen, M.C., Hamel, B.C.J.
August 2018, 368 pp., softcover
ISBN print   978-1-61499-877-8
ISBN online 978-1-61499-878-5
€108 / US$133 / £97
Generalized hypermobility has been known since ancient times, and a clinical description of Ehlers-Danlos syndrome (EDS) is said to have first been recorded by Hippocrates in 400 BC. Hypermobility syndromes occur frequently, but the wide spectrum of possible symptoms, coupled with a relative lack of awareness and recognition, are the reason that they are frequently not recognized, or remain undiagnosed.
This book is an international, multidisciplinary guide to hypermobility syndromes, and EDS in particular. It aims to create better awareness of hypermobility syndromes among health professionals, including medical specialists, and to be a guide to the management of such syndromes for patients and practitioners. It is intended for use in daily clinical practice rather than as a reference book for research or the latest developments, and has been written to be understandable for any healthcare worker or educated patient without compromise to the scientific content. The book is organized as follows: chapters on classifications and genetics are followed by chapters on individual types, organ (system) manifestations and complications, and finally ethics and therapeutic strategies, with an appendix on surgery and the precautions which should attend it. A special effort has been made to take account of the perspective of the patient; two of the editors have EDS.
The book will be of interest to patients with hypermobility syndromes and their families, as well as to all those healthcare practitioners who may encounter such syndromes in the course of their work.
Published by IOS Press